Automation offers systems designed to increase uptime and improve productivity, which a lot of our customers seek when they approach us.
The woodworking industry is now entering a new era of flexible manufacturing and automation is helping manufacturers like ourselves offer new fully automated production lines which deliver a rapid return on investment to our customers.
Within the current market, it has become difficult for companies to attract and retain skilled workers in woodworking factories, and with global shipping delays, the industry has faced some difficult times. Therefore, this means that there is a high potential for robotics and automation within the woodworking sector as a solution to some of the current challenges.
What does the future of the woodworking industry look like?
Wood is one of the first materials humans used for tools and as a building material. Yet wood still has a bright future within the realm of modern industrial automation.
The woodworking industry has a lot of potential for automation and robotics, this process will be an evolutionary opening for robotics in an industry that was relatively closed.
Decades ago, manufacturers that were considering using automation compared the cost of automating against the direct cost of labour they'd be replacing. Adding the number of people, shifts and hours provided a benchmark to use for determining the ROI.
Today, the same basic calculation can be used as a starting point; the benchmark ROI of an automation project now is typically under 24 months.
We have a wide range of automated CNC machinery in our showroom, which we have sold to customers as a solution to improving their productivity, efficiency, ROI, or turnaround time. One automated CNC machine has successfully replaced the manual work of four people for many customers, enabling them to have more room in their factory, increase their production levels and decrease the amount of labour work needed to look after the machines.
However, we believe automation and a set of skilled workers is the key partner for the future. You need skilled workers and experienced labour to run the advanced manufacturing, to understand the process, and to help you spot opportunities for the future as a company.
81% of manufacturers and 70% of service firms said they were struggling to find suitably skilled staff, according to a survey of 6,000 manufacturers.
The biggest age group working in manufacturing is those aged over 40 and approaching retirement age. Struggling to attract a pipeline of young talent.
We are working hard to ensure that we are inspiring the next generation as well as embracing new technology such as automation. Our aim is for JJ Smith to be an exciting and innovative space of modern manufacturing to attract skilled talent.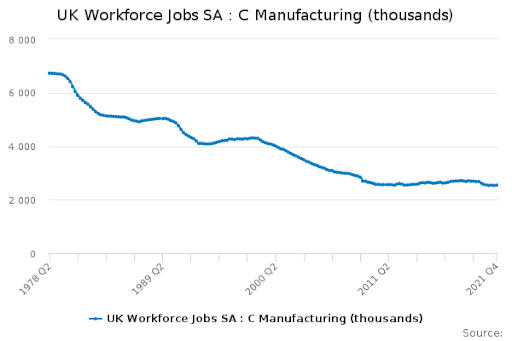 Industry 4.0 woodworking
Additionally, the fourth industrial revolution is already underway and experts are expecting a fast and disruptive change for most with woodworking undertaking an evolutionary change.
It is predicted that the physical environment will be seamlessly integrated with the information network. The internet is combining processes, systems, and intelligent machines to form a sop
This Fourth Industrial Revolution is already underway and experts are talking about a fast and disruptive change for most, while some industries like the woodworking industry might have a more of an evolutionary.
Companies are starting to implement more and more manufacturing software and we are working with the best manufacturers to enable our customers to have a seamless experience.
We are involved with manufacturing partners that have to come up with new solutions all the time such as; automated machines, industry 4.0 solutions, and office software.
We realise we need skilled workers who are able to deal with that, and we are proud to have a number of long-serving employees who have trained as apprentices, come through our program, and have decades of experience in the technology past, present, and future.
We know that a customer may be comparing several manufacturers and we aim to offer quality, reliability, and efficiency based on using both automated solutions and skilled workers. We believe this will give us an edge over other factories whose systems may be considered outdated.
We offer online machine support via TeamViewer, which enables us to connect to a customer's machine to assess and fix issues without the customer waiting for an engineer to visit.
As well as this we also use cloud-based data processing systems and apps for breakdown support, parts, ordering spare parts, and arranging video calls to assess issues instantly.
We are always on the lookout for new technology and advancements to bring industry 4.0 to life and help simplify our customers buying journey wherever needed.