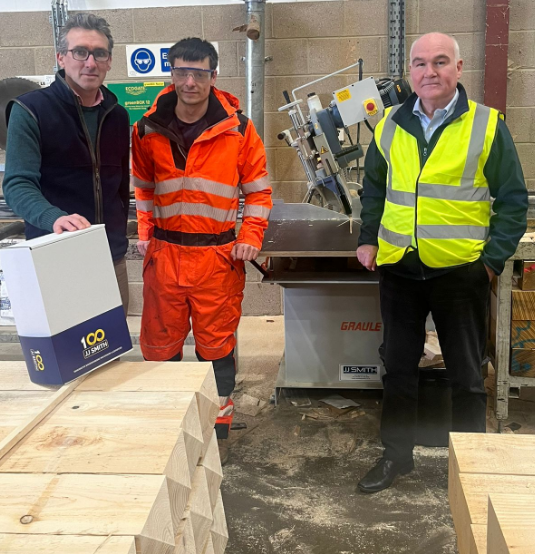 Pictured left to right James Linnell director, Stephen Ainsworth mill manager and Kevin McGlone JJ Smith sales manager.
Linnell Brothers, based near Silverstone in Northampton is a family run Timber Merchants founded in 1880 by Arthur Linnell.
The company have enjoyed over 140 years of supplying high-quality British timber to all corners of the UK. With a stockholding covering an area of over 20 acres, they are well placed to offer their customers a speedy delivery.
Linnell's have their own wood mill and treatment plant and so are able to offer a wide range of products including fencing, gates, sleepers, decking, flooring and carcasing.
The woodmill is able to provide a number of machining services which includes v-notching, mortising, PAR, round topping and post / pole pointing to name just a few. A key element to the production process is crosscutting and although Linnell's have a fully automatic cross cutting machine, they still rely on manual radial arms saws and have recently installed their 9th Graule machine a ZS200 N radial arm saw with 200 mm cutting height and tilting head supplied by JJ Smith.
Graule manufacture 3 models of radial arm saws ZS135, ZS170 and ZS200 each having a different cutting capacity. All machines are available with various options such as pneumatic clamping, laser guide lines, hydraulic brakes to the saw movement and also LCD readouts to display accurate angle settings. In addition, they can be supplied with infeed and outfeed roller tables or a programmable stop. Machines are usually available from stock.
James Linnell comments "As you can probably tell by the fact, we now have 9 Graule machines, we really like these saws. Although they offer a very good cutting capacity, up to 200mm deep on the ZS200, they are very compact in size and so the operators find them extremely easy to use as they do not have to reach far to pull over the saw unit". In addition to the Graule saw, Linnells also have a Graule QNF which they use for trenching.
By happy coincidence the installation of the 9th saw to Linnells happened to be the 400th Graule machine JJ Smith have supplied in the UK, plus 2023 is the Centenary year for JJ Smith. To mark this special landmark, sales manager Kevin McGlone presented James Linnell and mill manager Stephen Ainsworth each with a Centenary gift pack.
For further information please contact JJ Smith on [email protected], www.jjsmith.co.uk, Telephone 0151 548 9000
Linnell Brothers can be contacted at [email protected] telephone 01327-354422