For the first time in the show's history, the spotlight shone on the integration of robotics in woodworking. In partnership with leading collaborative industrial robot and hardware manufacturers, Universal Robots and Vention, JJ Smith showcased how cutting-edge automation technology can revolutionise woodworking production; increasing efficiency, productivity and safety by removing simple tasks such as handling, loading, sanding and assembling wood products.
Visitors explored a wide-range of CNC woodworking machinery, timber frame processing and robotics demonstrations from a vast array of renowned machinery manufacturers. The impressive line-up of live demonstrations included the Intorex TMC Machining Centre producing a wide range of complex shaped furniture components, state of the art automatic crosscutting machinery such as the best-selling Stromab CT600 and Camam TAC1 for straight and angled cutting, the versatile Comec MD TOP XL CNC Work Centre for producing furniture components, children's playground equipment and bed frames, and the Centauro Alfa Twin and Alfa Jamb Through Feed Machine with automatic loading and outfeed for door and frame processing.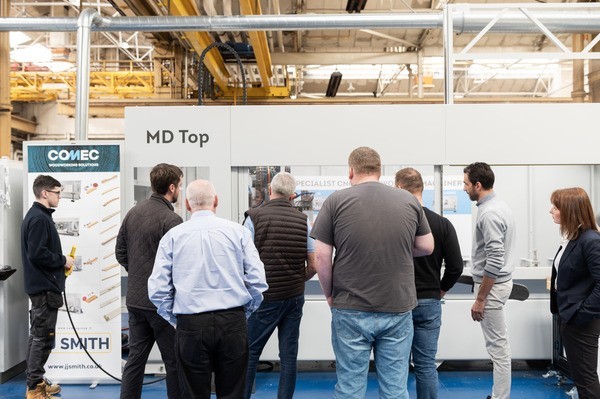 The show also fostered a collaborative environment for networking and knowledge exchange. Attendees had the opportunity to learn about the Made Smarter initiative and how manufacturing businesses can easily gain access to digital tools, expertise and funding to invest in digital technologies to leverage business growth.
As the curtains fell on the three-day event, it was evident that the woodworking industry is carving out a new path – one where tradition meets innovation, with the integration of robotics no longer a futuristic concept but a present-day reality.
Managing Director, Rachael Baker, said –
"At JJ Smith, we have always strived to push the boundaries of what's possible in woodworking. This year, we've taken a bold step into the future by showcasing the incredible potential of woodworking robotics. It's not about replacing skilled hands; it's about amplifying the capabilities of those hands."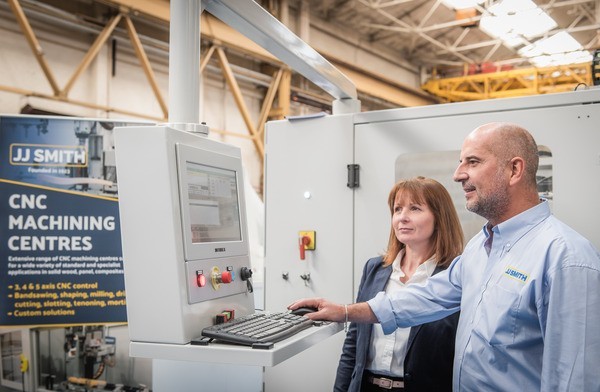 Are you ready to take your woodworking production to the next level? Contact JJ Smith to speak to an expert or to book a demonstration by visiting www.jjsmith.co.uk or calling 0151 548 9000.