With labour shortages and lack of skills a major concern within the woodworking industry, JJ Smith have partnered with Universal Robots, the world leaders in Cobot solutions. Their compact size and weight means they are safe to collaborate with operators/humans, without the additional floor space and safety requirements of traditional industrial robots. The Cobot's aim is to replace the 3D's in manufacturing 'dirty, dangerous and dull' which in turn allows staff / operators to be more productive elsewhere performing tasks the Cobot cannot undertake. Whilst incorporating the very latest in Robotics technology, potential customers may be surprised to learn that the Universal Cobot range starts from as little as £27,000! Four unique examples will be on demonstration undertaking tasks such as loading and unloading complete production cells, placing and screwing of parts, machine tending and assembling component parts.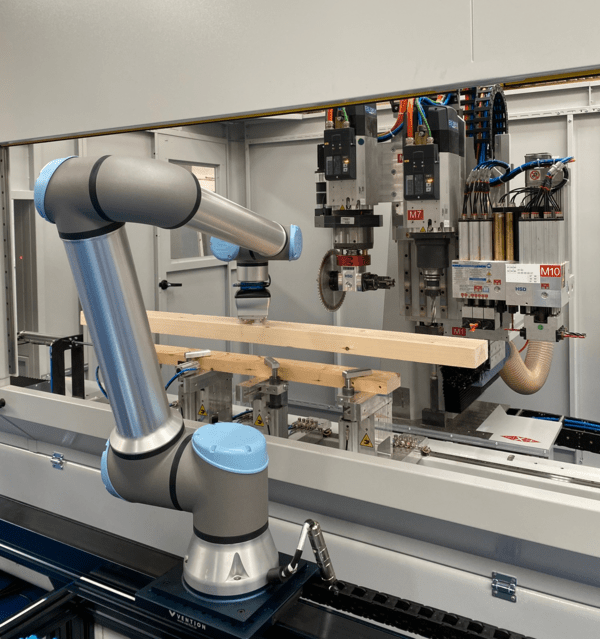 The impressive line-up of CNC machines consists of an Intorex TMC 1500 5 axis CNC machining centre that can produce a wide range of traditional turned components along with more complex shaped contemporary furniture or stair parts that can come off the machine finish sanded. As standard the TMC is equipped with an automatic hopper feed loading and unloading system, milling / shaping head, horizontal sanding unit, saw blade for turning and an overhead router head with a 10 position rotary tool changer. Also from Intorex will be a CNB 1500 CNC lathe.
From Comec there will be the very versatile MD TOP XL 4 axis CNC that has an X axis capacity of 3350mm or 1500 + 1500mm in twin working fields. Programming and machine set up is easy and quick. This machine is ideal for producing parts for garden furniture, indoor furniture, children's play equipment, bed frames and transport packaging etc.
CNC machines dedicated for door processing will include the ALFA NC milling and slotting machine of which to date there have been 100 machines sold in the UK and Ireland, and the ALFA Twin through feed door processing centre. This can simultaneously machine both sides of a door, typically taking just 2 minutes. Finally, there will be the all new ALFA Jamb through feed machine with automatic infeed loading  and outfeed unloading systems, specifically design for door linings.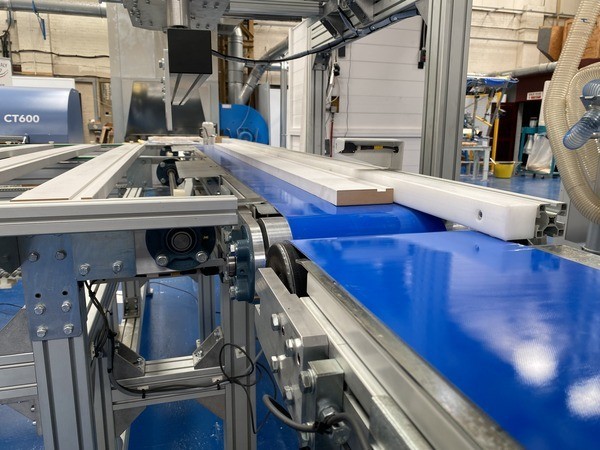 Cross Cutting continues to be one of JJ Smith's most important product ranges and there will be two Stromab programmable saws on demonstration, the Matrix straight cutting saw and CT600 for straight or angled cutting. Making its debut will be the all new Stromab programmable stop system which will be shown linked to an up cut Stromab TR501 saw. For the volume cutting of small blocks for furniture or for cutting stair wedges and glue blocks there will be the Camam TAC 1 automatic hopper fed crosscut saw. The crosscut line up is completed by three different radial arms saws from Graule, including the large capacity ZS200N which will be equipped with pneumatic clamping, LCD read out to the cutting angle and laser line. For trenching and notching a Graule QNF will be on show.
Other key machines on demonstration will include Deltawood multi head programmable swing chisel mortisers for doors, gates and general joinery, Fimal semi-automatic panel saw, Taylor JLT solid wood edge and face laminating clamps and the JJS range of heavy-duty hydraulic scissor lift tables.
To register your attendance please go to www.eventcreate.com/e/jj-smith-machinery-show
For further information please contact JJ Smith on [email protected] or call 0151 548 9000.